Calling all Klimt fans – and also all those who just love a good browse at art exhibitions. Klimt: The Immersive Experience opened in Dublin back in August, and is still massively impressing visitors. Bringing a touch of 1900s Vienna glamour to Dublin, this interactive Klimt exhibition allows visitors to step right into his masterpieces.
Employing floor-to-ceiling digital projections, virtual reality, and striking sound effects, the exhibition sees the likes of The Kiss, The Tree of Life, and Judith and the Head of Holofernes, almost come to life. As you admire these wondrous works on such a huge scale, you can study every brushstroke and perhaps even imagine the models as Klimt himself would have seen them.
What can you expect at Klimt: The Immersive Experience in Dublin?
Klimt: The Immersive Experience chronicles the Austrian artist's life, highlighting his techniques and influences, alongside his most compelling artworks. In fact, at the exhibition, you're able to embark on a 10-minute virtual reality journey that follows a day in the life of Klimt himself, and reveals the inspiration behind eight of his iconic works.
Elsewhere within the exhibit, you can make your way through a stunning gold tunnel – Klimt is known for his enchanting gold-adorned paintings after all, and marvel at floor-to-ceiling, 360-degree projections of his art. If the mood takes you, you can even try your hand at sketching yourself, before watching your works come alive, projected on the surrounding walls.
Don't just take our word for it, check out these reviews!
⭐⭐⭐⭐⭐ "Klimt was a beautiful immersive journey. The actual project room was delightful, with deck chairs to recline and lose yourself in the world of Klimt." – Emily P
⭐⭐⭐⭐⭐ "One of the most surreal experiences!" – James M
⭐⭐⭐⭐⭐ "Stunning exhibition, well worth the visit." – Noah R
⭐⭐⭐⭐⭐ "Loved every minute of this exhibition. Wonderful experience. Lovely, helpful friendly staff… Would highly recommend." – Lily T
⭐⭐⭐⭐⭐ "Amazing and relaxing immersive, VR experience. Brought my 3 year old, and she loved it too." – Emily F.
Whether you visit solo, as a group, or even perhaps a date, Klimt: The Immersive Exhibition makes for an awe-filled cultural hour or two. This exciting exhibition has toured cities all over the US and UK, so we're pretty excited to see it finally come to Ireland – don't miss out on tickets.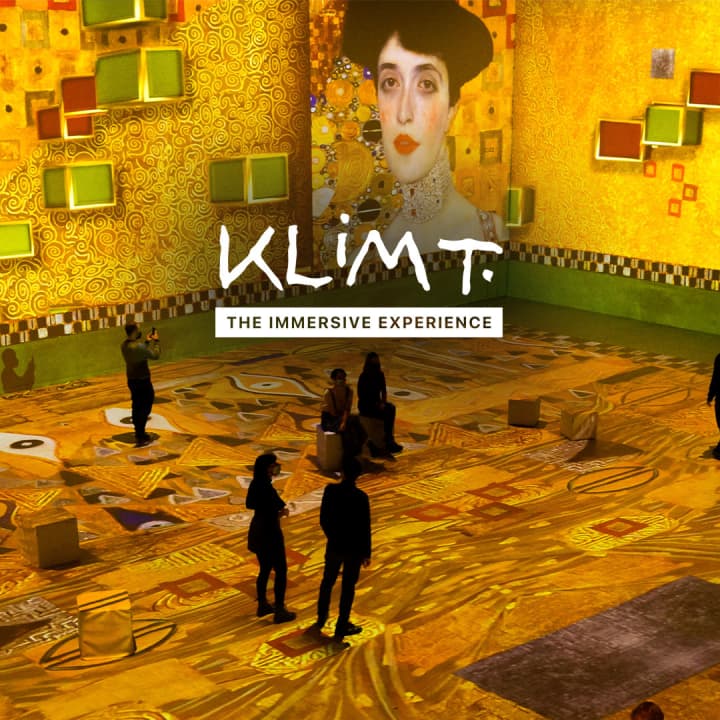 Klimt: The Immersive Experience
---