The artworks of Gustav Klimt are pretty distinctive, right? Known for glorious gold detailing and elegant depictions of the female body, his specific style is pretty unmissable… even more so when digitally projected from floor to ceiling at Klimt: The Immersive Exhibition!
Opening in Dublin on August 3, this immersive exhibition will allow visitors to take a closer look at many of the symbolist artist's works, combining digital projections, a VR experience and other immersive elements to create a 360-degree look at Klimt's masterpieces.
The VR experience at Klimt: The Immersive Exhibition
With tickets to Klimt: The Immersive Exhibition, you will not only step into an exhibit, but right into Klimt's paintings and his shoes themselves. Some rooms offer floor-to-ceiling projections and striking sound effects to recreate the works on a huge scale, while one, in particular, will have you don a headset for a 10-minute virtual reality experience. This multi-sensory experience enables visitors to experience a day in Klimt's life, and discover the inspiration behind eight of his iconic works.
Other key elements of Klimt: The Immersive Exhibition include a 'sketch and post' interactive room, where you become the artist and see your works on the big screen, and a glimmering, golden tunnel that's sure to be Insta-famous in a matter of weeks. You'll have the opportunity to recreate The Kiss with a loved one, or simply bask under a projection of The Tree Of Life.
From Brussels to Barcelona, the exhibit has successfully run in other cities around the world, so we've no doubt Dublin will welcome this exhibition to celebrate one of the greatest symbolist painters of the early 1900s.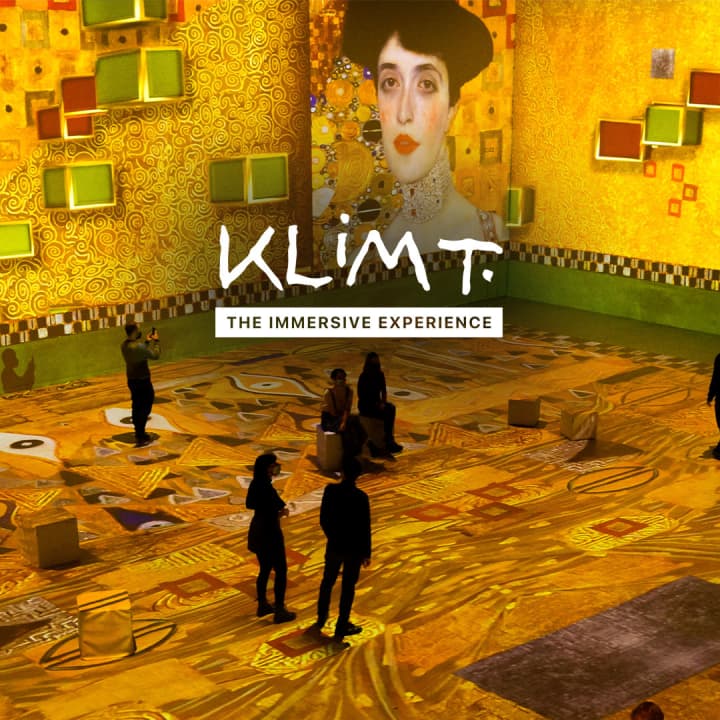 Klimt: The Immersive Experience
---