Bringing a touch of 1900s Vienna glamour to Dublin from August 3, a new interactive art exhibition, Klimt: The Immersive Experience, will offer a 360-degree look at the stunning works of Gustav Klimt. The exciting exhibition – which has toured cities all over the US and UK – brings the paintings to life on a huge scale; you'll be able to step right into the wondrous works, with floor-to-ceiling digital projections, virtual reality, and striking sound effects.
What can you expect at Klimt: The Immersive Experience in Dublin?
Klimt: The Immersive Experience chronicles the Austrian artist's life, highlighting his techniques and influences, alongside his most compelling artworks. You'll be able to scrutinise every brush stroke on digital projections of The Kiss, The Tree of Life, and Judith and the Head of Holofernes, or step back to observe the works in their entirety.
There are plenty of moments within the experience that'll likely stop you in your tracks. Notable is the stunning gold tunnel – Klimt is known for his enchanting gold-adorned paintings and elegant depictions of the female body after all. In addition, the one-of-a-kind virtual reality journey enables visitors to embark on a 10-minute experience that follows a day in the life of Gustav Klimt himself and discover the inspiration behind eight of his iconic works.
Elsewhere in the experience, you'll be able to try your hand at sketching yourself – and watch your works come alive, projected on the walls – or simply bag a memento of your visit at the on-site shop. The multi-sensory experience is ideal for groups of friends, family, dates, or even a solo meander, and will offer even the most revered art critic a new perspective on Klimt's work.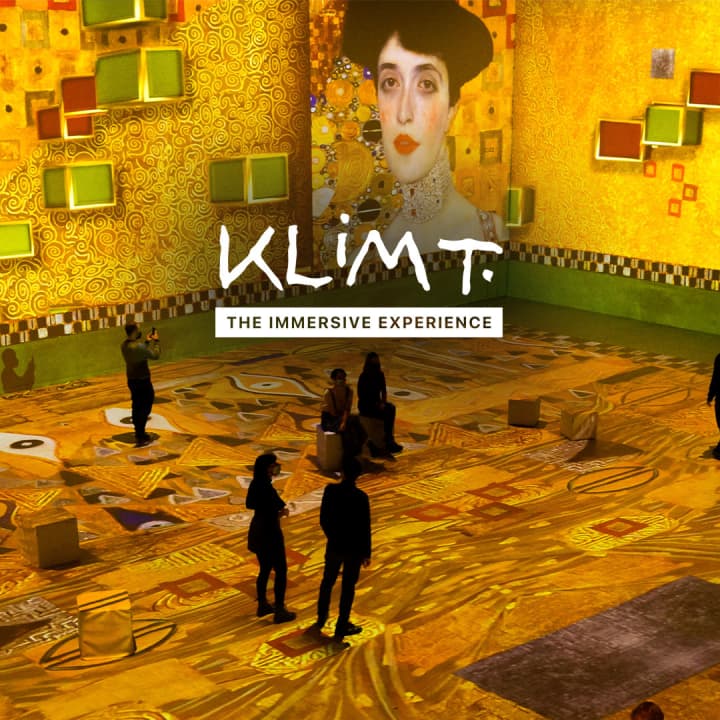 Klimt: The Immersive Experience
---