Klimt: The Immersive Experience is currently open in Dublin, having had much success in other cities around the UK and Europe. Allowing visitors to get closer than ever to the incredible masterpieces of the renowned artist, the venue is completely transformed by his works. Famed for the use of gold guilding and focus on the female form, Klimt's works capture 1800s glamour. Here are the top reasons why you shouldn't miss the fascinating Klimt exhibit in Dublin.
1. You'll see his works from a brand-new perspective
Klimt fans, I'm sure you've seen his masterpieces displayed in books, online, and in art galleries many times over in the same mundane way. Klimt: The Immersive Experience takes these magnificent works and presents them like you've never seen before. With 360-degree projections of The Kiss, The Tree of Life, Judith and the Head of Holofernes, and more, you'll be able to study every brushstroke and get up close to these depictions. We promise you'll be in awe as these striking images completely surround you.
2. The epic VR experience
If being surrounded by Klimt's artwork wasn't enough, you can almost literally step into the artist's shoes with the exhibition's one-of-a-kind VR experience. Across 10 minutes, you'll wander through a computer-generated world that will chronicle a day in the life of Gustav Klimt himself, and reveal the inspiration behind eight of his iconic works. Mind-bending stuff!
3. There are photo ops galore
Calling on all the modern day artists, whose medium is their phone camera: Klimt: The Immersive Experience is brimming with really cool photo opportunities that'll brighten up your Instagram feed and your day. From the glimmering gold tunnel to the 360-degree depictions on the walls, the possibilities for a good snap are limitless.
4. Klimt: The Immersive Experience has enjoyed global success
Don't just take my word for it that the experience is fab – hear from visitors all around the UK and US who checked out this travelling exhibition in their city.
⭐⭐⭐⭐⭐ [It was] enjoyed by the whole family – great info, experience, artwork and VR.
⭐⭐⭐⭐⭐ Really enjoyed it and the 3D takes art to a new level.
⭐⭐⭐⭐⭐ Great exhibition, very relaxing atmosphere!
⭐⭐⭐⭐⭐ It was just mesmerising. 
⭐⭐⭐⭐⭐ A lot of info about the artist, and an impressive installation. We liked it very much – highly recommended!
5. It's fun for friends and family alike
This exhibition offers fun for all the family. Young and old are encouraged to get involved at the experience's interactive stations; one such example is the oppotunity to unleash your inner artist and try sketching yourself. These works will then be projected nearby.
Families aren't the only groups catered for though. Solo visitors can truly immerse themselves in the world of Klimt's artworks without any distractions, while it also makes for a cute mate date or date date. A kiss under The Kiss? Go for it.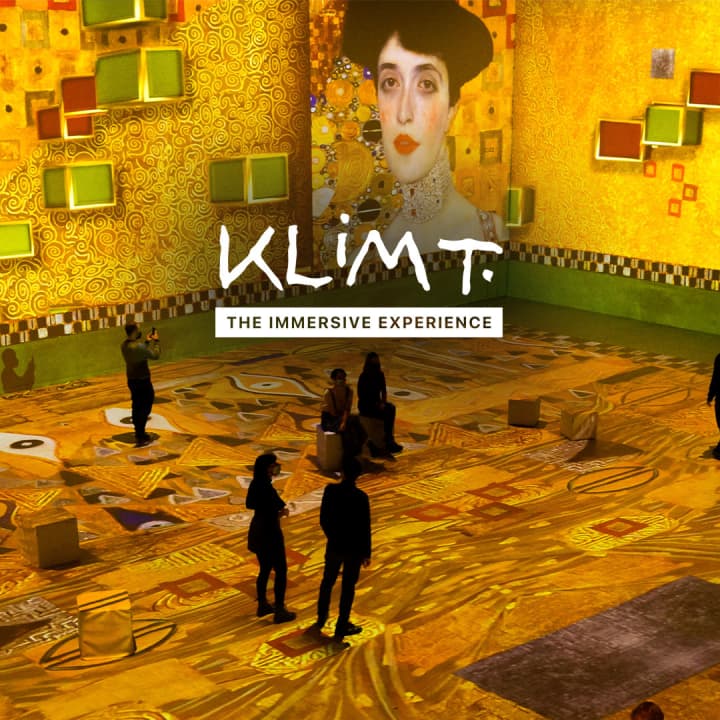 Klimt: The Immersive Experience
---