Ever wished you could climb through the canvas into a swirling Van Gogh masterpiece? Well, let us paint you a picture. If you haven't already heard the iconic art of the Dutch painter has been brought to life at an immersive exhibition in Dublin, inviting you to experience his wondrous work in an entirely new way, thanks to the use of cutting-edge projection mapping, virtual reality and a 360-degree digital show. What's more, the popular exhibition will now be sticking around for even longer, with the final date on January 15, so there's still plenty of time for you to check it out if you haven't already done so. Trust us, this spectacular multisensory experience has already earned a wealth of rave reviews and it is not one to miss.
What can you expect to see inside Van Gogh: The Immersive Experience?
Strolling in through the doors of this exhibition is like stumbling into a painted wonderland, where, instead of cheshire cats and mad hatters, it's the beautiful creations of Van Gogh that materialise in front of your eyes: boats bobbing on rippled water illuminated by orb-like stars, almond blossoms swaying in a gentle breeze and crows flying across dappled blue skies. There's no magic at play here, just incredible digital technology that injects life and movement into 19th-century pieces.
The multi-sensory exhibit – which you'll find in Artane, just a 20-minute ride from the city centre – also includes a hyper-realistic VR experience, giving guests the chance to slip on a headset and follow in the footsteps of Van Gogh in 'A Day in the Life of an Artist in Arles, France'. Wander along twisting cobblestone streets and through butter-yellow wheat fields on a ten-minute virtual exploration; discovering the colourful realms of paintings such as Starry Night over the Rhone River and Vincent's bedroom at Arles.
Be sure to bring the kids along too. Not only will they get to learn all about the post-impressionist painter through engaging interactives and impressive 3D re-creations, but any aspiring young artists will also have the opportunity to pick up some crayons and create their own masterpieces, which we're sure will rival the works of Van Gogh himself.
Don't just take our word for it. Van Gogh: The Immersive Experience has already won hearts in London, Naples, Brussels, Beijing and many more cities around the world, sending over 2 million people on a mesmerising multisensory journey. To make sure you are among the first to witness this visual spectacle buy tickets now.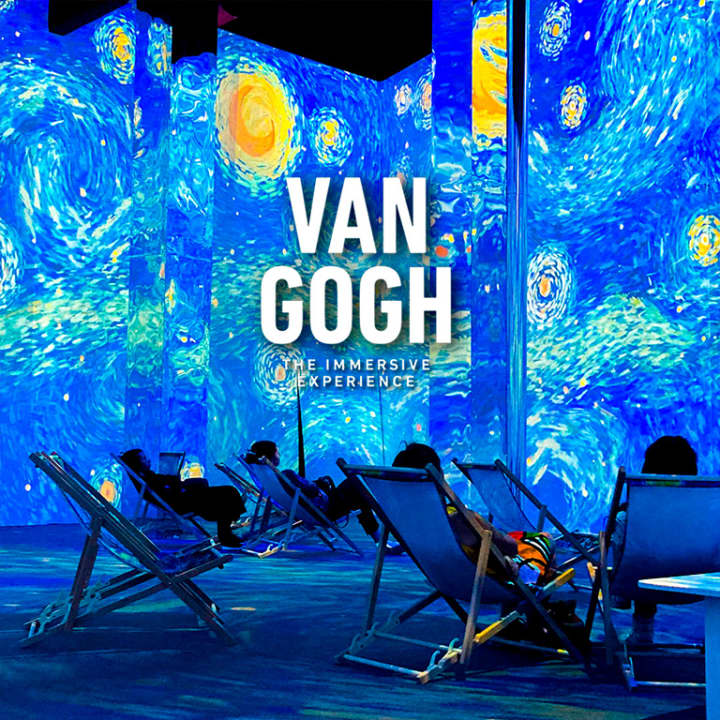 Van Gogh: The Immersive Experience
---